Download Brochure
The AMG-7800 automatic Central Pay Station is designed as a fast pay-processing unit and is perfect for large-scale 24-hour operations. Transactions are fast and easy for the user virtually eliminating long lines and delays.
Features
Ergonomic, customer-friendly, compact modular design
Large, easy-to-read 15-inch flat panel display
Intuitive, easy-to-use lighted guidance system helps patrons make fast transactions
Superior detection/rejection technology
One-drop change location eliminates confusion
Accepts notes and coins. Faster, more reliable electronic self-replenishing coin system eliminates tubes with option for up to three recycling coin hoppers and a fourth non-recycling hopper
Dispenses notes (up to 3), coins (up to 4) and receipts
Large, 8" receipt roll – saves labor, and improves security
Ethernet-based peripheral communications sub-system
Uninterruptible power supply
Note storage in individual, lockable cassettes
Scalable hardware/software
Multiple languages are programmable, including English, French and Spanish
FlexScan barcode integration optional
Options
Debit Recharge
Lost Ticket
Spare Lockable Note Vault
Spare Note Cassette
Spare Coin Vault
Coin Recycling/Dispensing Module
Coin Dispensers
Note Dispensers
Integrated FlexScan Barcode Kit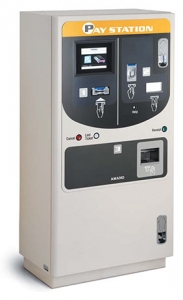 Download Brochure
The Amano AGP-6800 Series pay station is finding wide acceptance in fully unattended facilities – revenue climb while labor costs are virtually non-existent.
Features
Unattended exit payment system calculates variable rate or flat rate fees utilizing mag-stripe technology.
Provides an economical method to offer additional payment locations in the exit lanes of a facility.
Includes a lighted patron guidance system and easy to read touch screen display.
Electronic shutter system protects the ticket slot, coin slot, and note slot; activated open by the start of a transaction.
Accepts entry tickets, exit tickets processed at a central pay location; cancelled tickets, lost tickets, validation coupons and service tickets.